Since 2001, the World Economic Forum (WEF) has published a detailed annual study which assesses how economies around the world are harnessing ICT to promote economic growth and well-being.
The comprehensive WEF report—2015's edition is 381 pages long—includes the WEF's Networked Readiness Index, which reports on 53 individual indicators in four main areas: environment, readiness, usage and impacts.
Using data from publicly available sources and conclusions from a global survey of 13,000 business executives, the WEF determined that Singapore is the country with the best prepared infrastructure, institutions and skills, to fully benefit from the potential afforded by ICT.
The United States and Japan were the only other non-European countries in their Top 10, with the report noting a growing global digital divide, with the "full economic and social benefits of the internet only available to a minority of the world's population."
Source: World Economic Forum via Strategy&
The importance of health
Digital Healthcare is one of the areas where this digital divide is most pronounced. Yet, it's also an area which could unlock wider societal and economic benefits.
"Good health improves productivity and educational attainment," the report notes. "In an inclusive world, everyone would have access to the best possible care, for themselves and their loved ones."
However, as the authors observe, "this vision is increasingly hard to attain. Worldwide, healthcare provision is struggling with unsustainable pressure from rising demand and costs."
"No economy—developed or developing— is immune from evolving patient needs and financial imperatives," they note.
In 2014, they predict, the United States will have spent more than US$3 trillion on healthcare (akin to Germany's entire gross domestic product); whilst the number of people with diabetes in the developing world is anticipated to increase from 84 million in 1995 to 228 million in 2025. And in growing economies such as India and China, cardiovascular diseases are already more numerous "than in all the economically developed economies in the world put together."
It is against this backdrop that a series of essays outline how ICT can help to address these issues, driving down costs whilst also promoting inclusivity and tackling the impact of chronic diseases.
Here are ten conclusions which caught our eye:
1. Healthcare costs are rising, but technology is becoming cheaper.
it's inevitable therefore that one will help to address the other. "Intervention models previously considered impractical—such as point-of-care diagnostics and telemedicine to remote sites—are now very possible," the study says.
2. Everything is digital now.
"E-commerce, entertainment, mobile micro payments, telehealth—everywhere you look, in all sectors, in developed as well as developing geographies, the ways we create and distribute economic wealth and social well-being are changing," the report states. "But one thing is consistent: in every one of these models there is a digital delivery channel."
3. These will combine to mainstream specialist care.
This will enable "millions more people—from expectant mothers in developing economies to people living in remote rural areas, all over the world," to benefit. "Thus bringing better health and inclusive growth to entire populations."
4. The "Internet of Everything" can help bridge the rural divide
By connecting medical specialists to patients at rural hospitals, "saving patients the time and expense of travel and enabling doctors and specialists to collaborate on patient care." One such example is the Jordan Healthcare Initiative, which uses Cisco HealthPresence technology to expand the reach of specialty healthcare to rural communities in Jordan.
5. It will also usher in a new era of collaborative care.
Doctors and specialists can use connected medicine to support patients wherever they may be. This will be especially beneficial to rural areas, such as much of Africa. "The continent faces 28 percent of the global disease burden but has only 3 percent of the world's healthcare workforce."
6. Developing markets are a test bed for innovation.
"Some green technologies, m-learning, and m-health services have also been tried for the first time in developing markets."
In Indonesia, for example, Philips is running a pilot project in Mobile Obstetrical Monitoring. Data is sent via a mobile "to obstetricians or gynecologists in a different location, who can determine whether a pregnancy might be high risk. If so, women can be referred to appropriate medical services for immediate and adequate help."
Whilst in Kenya, an e-learning project has taught 12,000 nurses how to treat major diseases such as HIV and malaria, a far greater number than the 100 nurses a year who can be taught in a classroom.
7. Big data analytics will help pre-empt major health issues.
Such analytics can help to identify hotspots for where diseases like Dengue fever, or outbreaks of flu or gastroenteritis, will spread next. Initiatives such as HealthStat in New Zealand are already putting this notion into practice.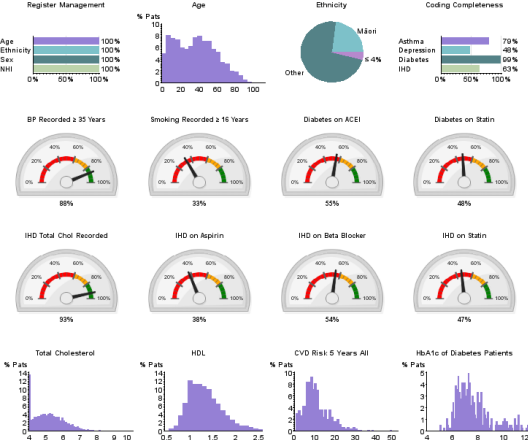 Image: HealthStat dashboard
8. 230 million children (one in three) in the world have never had their births registered.
"Technology is already being used to help register and report on births." UNICEF Kosovo, for example, has used SMS as a means to address this. The GSMA has promoted similar initiatives in Sub-Saharan Africa.
9. Everyone is looking at electronic patient records.
This even includes China, the world's most populous country, which designated information sharing and electronic health records as part of its Healthy China 2020 strategy. The strategy "aims to provide healthcare access to every resident, rural and urban, by 2020."
10. Digital tools need to be designed with the user in mind.
"Clinicians and patients interact with data very differently. Thus personal health applications need to be attractive and useable by everyone—from an 80-year-old person with multiple chronic diseases to a teenager with a sports injury; from a doctor, a nurse in a telehealth center, and a general practitioner to a health coach and a caregiver."
Being online matters
There are still 4.5 billion people without access to the Internet and a range of different organisations – from telecoms companies to civil society, government and philanthropists – are all addressing this.
Many of these efforts are focused on mobile. But Thierry Geiger, Senior Economist, World Economic Forum and co-author of the report, is at pains to stress the importance of 3G and 4G connectivity as the true delivery agent for change.
"Mobile telephones may be becoming ubiquitous around the world, but the ICT revolution will not be carried over voice or SMS," he says. "Without better access to affordable internet, a huge proportion of the global population will continue to live in digital poverty, missing out on the enormous social and economic benefits that the ICTs represent."
The nuviun blog is intended to contribute to discussion and stimulate debate on important issues in global digital health. The views are solely those of the author.